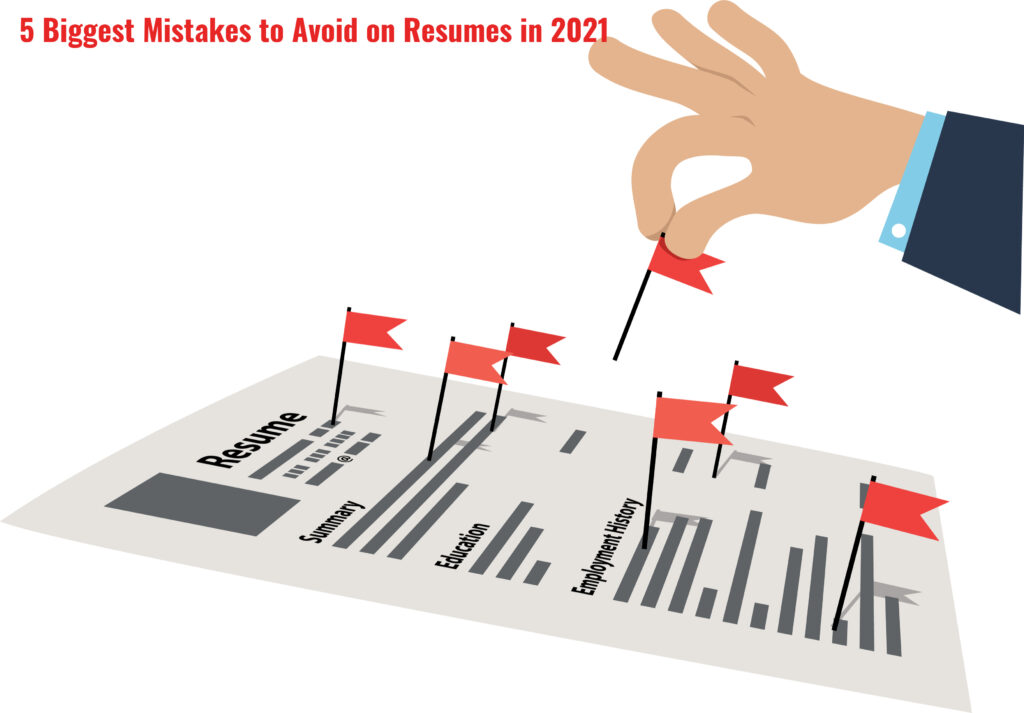 Did you know in today's society a person changes jobs on average ten to fifteen times in their lifetime? https://www.bls.gov/news.release/pdf/nlsoy.pdf I found this information amazingly shocking. This study demonstrates how extremely important it is to have a well-written resume ready even if you are not currently searching for employment. The statistics predict that one day you most likely will need one. It is always better to be proactive than reactive.
Here are the 5 biggest mistakes to avoid on your resume in 2021
Spelling and Grammatical Errors – Proofread and proofread some more. It helps if you read the resume out loud to yourself, this practice helps you catch errors. Recruit family and friends to proofread as well, it's great to have a different perspective for feedback.
Contact Information – Make sure you have your most current telephone number and email address on your resume. This seems like something most people know but I have seen countless resumes with the wrong contact information. You can miss out on job opportunities for such a simple mistake.
Introduction Statement – The Introduction Statement is one of the most important aspects of the resume to showcase talents and skills to hiring managers. I see a lot of resumes still using objectives as the introduction. Objectives inform recruiter's or hiring manager's what you are looking for in a company, most people with hiring authority do not care about what you are interested in they care about what contributions you can add to the company. Instead of using an objective replace it with a summary of qualifications. Inform them what contributions you will bring to the company and how you would be an asset. It is extremely important to capture the recruiter's and hiring manager's attention at the top section of your resume, studies state they spend about 7 seconds scanning your resume before deciding to contact you for an interview You have 7.4 seconds to make an impression: How recruiters see your resume (theladders.com)
Format – I use the acronym (Keep It Super Simple – K.I.S.S) for this section of the resume. Avoid using graphs and resume symbols such as the telephone and email icons. Over 90% of Fortune 500 companies use the Applicant Tracking System (ATS) to recruit candidates. The ATS is tasked to scan your resume to determine if your skills and qualifications match the job description. Unfortunately, some ATS software are not advanced at recognizing graphs and resume icons which could cause your resume to be rejected from being forwarded to hiring managers. My best advice is to keep your resume formatting super simple and clean. The number one goal is to get past the ATS.
Length – The general rule is the average resume is one to two pages in length. One page is typical for recent graduates and entry-level resumes. Two-page resumes are typical of job seekers with five or more years of experience. Remember (Keep It Super Simple – K.I.S.S) at all times to pass the ATS.
In an extremely competitive job market, it's critical to have a well-written resume if you want to land interviews and get the job. Grammatical errors and unpolished resumes can make you miss out on job opportunities. Review and revise your resume to make sure you are ready to apply for jobs at any given moment.
Stay positive, stay focus!! Your next job is just an application and an interview away. If you need assistance with your resume contact JW Professional Writing Services; we love to talk about resumes.
https://jwprofessionalwritingservices.com/
1-833-597-7767